---
The proposed operational structure and assessment process is shown below. For further details, refer to the Overview Presentation and Owner Guide.
---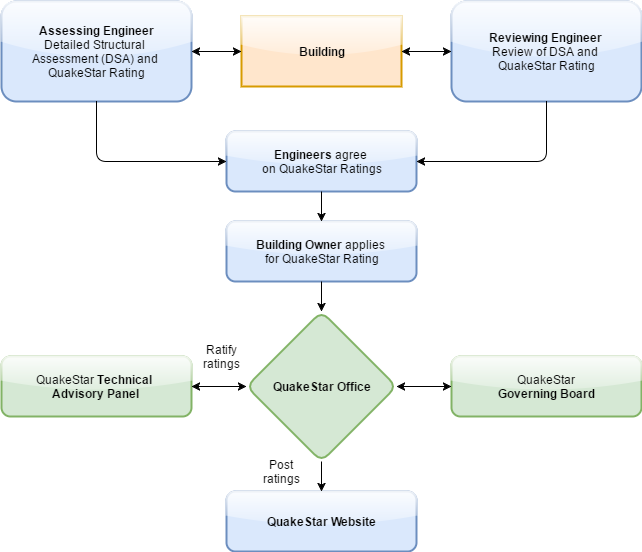 ---
The QuakeStar approach achieves consistency by requiring an independent review of the assessments and ratings.
---
The owner appoints an Assessing Engineer (on a QuakeStar-approved list of individuals) who examines the site and the building and reviews the design documents, especially structural drawings.
The Assessing Engineer uses QuakeStar Worksheets to assign the star-ratings for Safety, Damage and Repair Time.
The owner appoints a Reviewing Engineer (approved as independent by QuakeStar) who reviews the assessment and the ratings of the Assessing Engineer.
The Assessing Engineer and Reviewing Engineer must then compare notes and agree on each of the three ratings. (They do not have to agree on the detailed reasons).
The owner receives the agreed ratings and reviews the reports from both the Assessing Engineer and the Reviewing Engineer. If it is clear that ratings would increase if identified improvements were made, the owner may choose to take action on these and ask the engineers to update their ratings.
The owner then applies for ratification of the ratings by QuakeStar Office.
Once ratified the basic ratings, but not the engineers' reports, are available to all on the QuakeStar website.
QuakeStar has an office, a website and a Governing Board. A Technical Advisory Panel reviews building ratings and approves Assessing and Reviewing Engineers.
For further details refer to the Overview Presentation and Owner Guide.