A: Role of QuakeStar Worksheets
QuakeStar Worksheets turn structural assessment data into a star rating.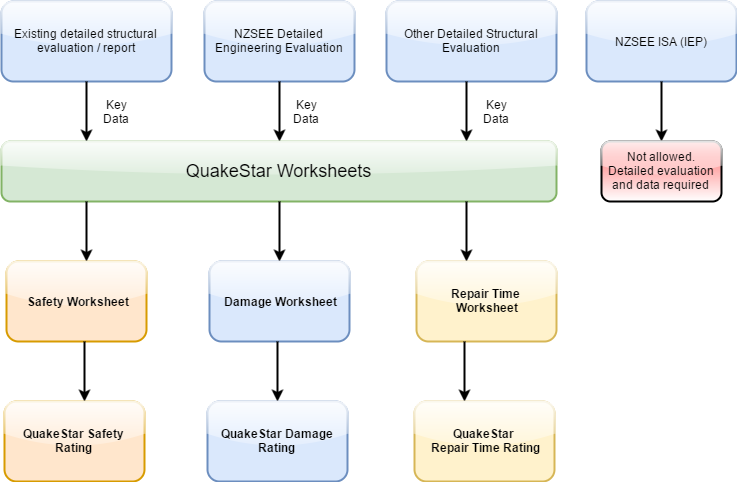 QuakeStar Worksheets:
Convert structural assessment data into star-ratings
Have separate ratings for Safety, Damage, Repair Time
Require minimal input to complete worksheets
Focus on vital earthquake performance characteristics
Require a detailed assessment of site and building
Data is allowed from any credible source eg. (existing reports)
Engineering judgement is needed to determine a score
A score determines the star-rating according to the data entered
Worksheets show the star-rating interactively as scores are entered
You can see Sample Worksheets here.
B: Engineer Rating Process
For overall process, refer Owner Guide or the Overview Presentation.
Assessing Engineer and Reviewing Engineer must be on list of individuals on QuakeStar list.
Applications to be on the QuakeStar list to be submitted with supporting information demonstrating suitable knowledge, experience and judgement.
For any particular building assessment, the Assessing Engineer and Reviewing Engineer combination must be acceptable to QuakeStar. This should be checked out before the QuakeStar assessment process begins.
A fundamental requirement of the QuakeStar process is that the Assessing Engineer and the Reviewing Engineer must agree on the star-ratings in each category. Agreement on the detailed reasons is not required, but details of any differences should be included in the engineer Reports.
QuakeStar Worksheets contain instructions on filling in assessment values. These are essentially %NBS values for the items concerned, but modified to account for buildings of higher importance:
a. For IL2 buildings multiply %NBS values by 1.0
b. For IL3 buildings multiply %NBS values by 1.3
c. For IL4 buildings multiply %NBS values by 1.8
In other words, the QuakeStar scores are based on 500-year shaking
Refer the Overview Presentation for more details on the QuakeStar Worksheets.
Minimal input is required to complete the Worksheets. The amount of work needed to determine suitable values is up to the Assessing and Reviewing Engineers and will vary according to the scale and complexity of the building.
Detailed assessment needed of site and building is needed
Data is allowed from any credible source, including existing reports
Engineering judgement is needed to determine values to be entered.
Score determines star-rating according to data entered
Worksheets show star-rating interactively – as scores are entered. This allows users to review the sensitivity of the star-ratings to change in any particular value entered.
The Assessing Engineer's Report must show each Worksheet with all values entered. This should be accompanied by a written report highlighting key assumptions, methods used, and any important issues. For example, the report should highlight that one particular feature is reducing what would otherwise be a higher rating. (This should be apparent from the Worksheet Output.)
The table below shows the QuakeStar Safety Scores and corresponding Star Ratings.
| Building Importance Level (IL) | Typical example | Seismic Factor for New Building Standard | %NBS for building to New Building Standard | QuakeStar Safety Score | QuakeStar Safety Rating |
| --- | --- | --- | --- | --- | --- |
| IL2 | Office Building | 1.0 | 100%NBS | 100 - 130 | ★★★ |
| IL3 | School | 1.3 | 100%NBS | 130 - 170 | ★★★★ |
| IL4 | Hospital | 1.8 | 100%NBS | 180 - 230 | ★★★★★ |